In this article, you will learn how to assign administrative permissions in our award-winning software, Mvix CMS. Administrative permissions ensure that only higher-level employees have permission to do tasks in Mvix CMS and lower-level users have restricted access. Restricting access allows ensures security protocol that higher-level personnel has access to important information and tasks.
For example, if corporate companies have interns who want to grant access to only the basic tasks, they can grant them restricted access. For tasks outside of their restrictions, they will require approval. This ensures all important activities are approved before being performed or published.
To restrict users' permissions, you will need to apply them to a User level account. You can then create the Groups you want to assign them to, assign their permissions levels for these Groups, or assign permissions on an individual user level.
Here is how to adjust or change administrative permissions.
What You'll Need:
Changing User Roles
If you'd like to change a user into an admin or vice-versa, that is easily handled via the Users Module.
From the Mvix CMS Dashboard, (1) hover over the 9 dots at the top-left of the webpage then (2) click on "Users".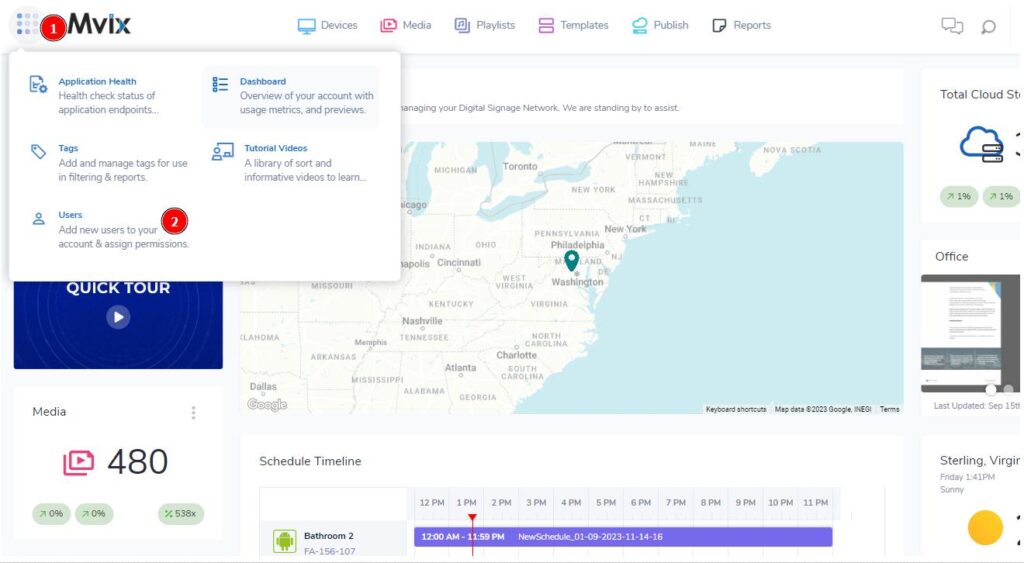 Once the User Module loads, (3) hover over the gear icons at the right side of your selected user then (4) click edit.
On the "Edit User" module, find the drop down option for "Role". (5) Click on that and then select the new role for that user. Afterwards, (6) click "Update" at the bottom of the page to finish the process.
Creating Groups
The first step to changing administrative permissions is creating groups. Once your Groups are created, you can assign permissions to your Users to allow access to those Groups.

Note: Be sure to name your groups something that is easy to remember who is attributed to them.
Managing Administration Permissions Per User
The permissions page will allow you to assign that user access to any number of groups in each category.

Click the desired category from the left column. Then, choose to allow or disallow access to that section by checking the "Allow" box.

If "Allow" is checked, you will then see all available groups within that section. The scope of their privileges is shown in the right two columns.
Check any groups you would like to allow this user to access. Once you check a group, make sure to turn ON or OFF the appropriate access. The Read column is read+use only, and the Write column allows for read+use+create abilities.
Click "SAVE" in the top right corner to finalize your changes and apply the permissions.
Managing Administration Permissions by Group
Digital Signage Forever
Designed for enterprise-digital signage deployments, our Signature Care plan offers a lifetime warranty, free digital signage players every 3 years, accelerated issue resolution, and premium content. Intended to enable high system uptime, operational efficiency, and continuous business innovation, the plan ensures proactive upkeep of the signage network. Learn more about Mvix Signature Care.

Problems, Questions, Corrections: If you have any further questions, problems, or corrections you would like to see made, please open a support ticket.