Top 5 Locations to Place Movie Theater Signage
A study by Straits Research shows that by 2030, the digital market will reach $44.84 billion. Therefore, if you are in the movie industry, it's time to join the bandwagon of businesses that invest in digital signage. Digital signage helps inform movie attendants about the plot of a movie and other essential details. This information helps them choose whether or not to buy a ticket. Apart from that, movie theater signage helps newcomers find their way in the halls and provides content on promotions.
Besides being easy to implement, digital signs can lastly help you maximize sales. However, to maximize these benefits of digital displays, you should place them in strategic places. Here are the top five locations to put movie theater signage.
1. Entrance
One of the benefits of utilizing a theater marquee sign is efficient wayfinding for your guests. It can be difficult for guests to try and locate bathrooms or movie auditoriums when there are heavy crowds, insufficient wayfinding, and long lines to ask for help.
Fortunately, movie theater signs solve this problem and make it easier to direct visitors to their movies on time and other locations efficiently. Digital signage also relieves movie theater attendants of the routine of pointing people in the right direction. Ensure your signage offers comprehensive directions on where to find the nearest bathroom, auditorium, family rooms, and movie seats requiring reservations.
Additionally, at the entrance of your Hollywood movie theater, you can use digital signage to earn revenue. Thousands of customers will walk through the doors of your theater on their way to see a movie. This means there is a high likelihood most of these attendants have businesses. Therefore, investing in ad space will give them an easy sales pitch, which means more money for you. 
2. Concessions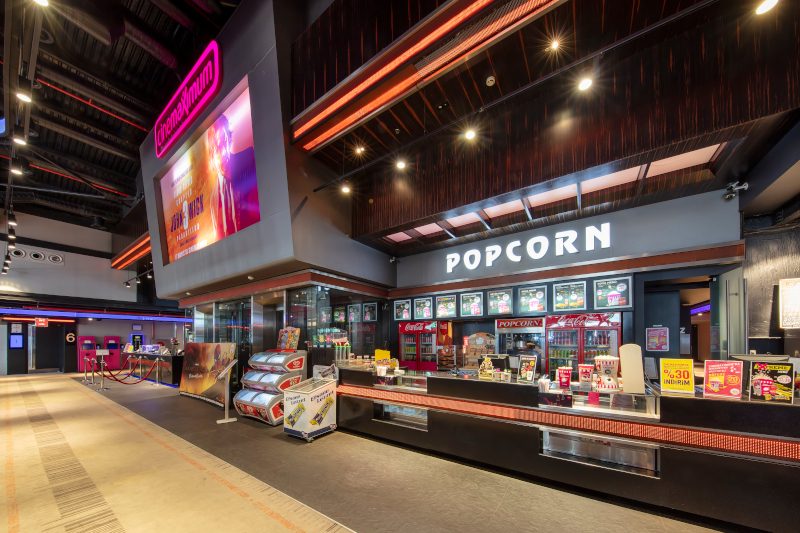 In the past, digital menu boards were popular for fast food services because businesses saw an increase in sales numbers. Moreover, these screens were easy to update in real-time. This was a significant upgrade from traditional paper menus that were expensive and time-consuming to produce regularly.
These same benefits apply to the concession stand digital menus in theater rooms. When putting up the concession stand digital signs, it is good to make them match your home theater decor. When you install digital menu boards for your concession stand, your theater will show off your food and beverage items in a more dynamic and mouthwatering fashion. 
For example, you can display popcorn signs or tin signs showing different beverages. These eye-catching signs attract your audience because of the high-resolution screens and video, and motion elements. Furthermore, these led signs can showcase limited-time promotions, or special menu offers that will drive your concession stand sales numbers higher. 
3. Touchscreen Kiosk   
Movie room signs for drive-in theaters significantly increase the traffic to your small business and boost ticket sales. Digital signage attracts eyes better than static signs. In fact, according to a report by Eclipse Digital Media, 29.5% of customers make purchases when they see digital menus. So, you will likely get high sales if you have a network of beautiful digital screens at the front of your cinema showing all the films and products to checkout.
With that, movie marquee signs provide unique and compelling ways of engaging with customers. One of these ways is allowing customers to buy movie tickets at a self-service kiosk. This is convenient for both the movie attendants and your employees. It relieves movie attendants because they don't have to wait in long queues. Also, it allows your employees to focus on other pressing tasks.
Touchscreen kiosks aren't limited to allowing your customers to buy tickets. It should go further by offering your movie attendants the chance to sign up for reward programs through interactive theater marquee screens. This is an innovative way to encourage repeat moviegoers to your vintage movie cinema. Additionally, the data that could be provided by deploying touchscreen kiosks are endless. This can show you what movie genre or snacks are preferred by moviegoers and how you could potentially increase sales.
4. Theater Hallway
Informing your customers is essential in movie media rooms because there are various information and choices. Consequently, ensure you choose signage that compliments your movie room decor and wall decor. Using interactive displays in the theater hallway allows your customers to study available box office movies in detail. Indeed, using interactive movie posters, as done by Coca-Cola in their advertisements, is a clever way to lure customers.
When designing wall art and personalized home theater marquee signs, ensure you provide a plot overview. Additional information that may interest customers include film strip duration and price. Remember, a pleasant customer experience will convince people to choose your theater over others. The content of your signage will help customers decide whether to watch more movies than one. If you are looking for movie night signage ideas, consider the variety of outstanding home cinema signage at a fun sign factory.
Additionally, you can use man cave signage on your hallways to promote best sellers, happy hours, and ticket combos. Post all promotional content that will lure customers into buying more tickets. Moreover, you can boost your special events with tickets. For instance, you could offer group tickets and unlimited ticket packages. One single neon sign can replace an infinite amount of static ones. The most notable benefit over traditional signage is the benefit of cycling through full-display images.
Placing your movie theatre sign throughout the movie and game room hallway helps promote loyalty programs. This entices patrons to participate in them. Loyalty programs offer a lot of perks, such as earning points that participants can redeem for prizes. Also, participants can redeem the points for discounts at clothing stores, restaurants, and best sellers at the movie shop.
5. Outdoor Signage
Compared to online video platforms and Facebook, which attract less than 45%, businesses use video signage to draw a larger audience to what they offer. Another ideal location for your retro signs is outside the movie theater. As a result, you can promote new and upcoming film releases to lure passersby into taking a peek inside your movie theater. In the past, movie theaters achieved this by using movie posters outside the cinema's entrance and throughout the movie theater. This doesn't compare to the impact of digital signage.
Install movie reel-led signs at all the locations you once put-up paper movie posters of upcoming films. Unlike static posters, these digital posters can incorporate trailer footage and motion graphics. This is a great way to catch the attention of passersby, who are movie fanatics. One advantage of digital signage software is that these large video walls can be set to update playlists automatically. This way, your content will never get stale.
Deploy Digital Signage For Your Movie Theater
Digital signage provides numerous benefits over static signs. Many businesses have adopted this technology because it is more cost-effective than posters. With conventional signs, you have to deal with the cost of printing papers and constantly changing content. The advantage of digital signage is that you can update the content at the click of a button. Additionally, the HD and beautiful displays are spacious and attractive. Therefore, consider incorporating digital screen signage in your marketing campaigns to boost traffic to your home movie theaters.