Trends and Tips for Drive-Thru Digital Menu Boards
Technology has changed how consumers interact with food at every step of a purchase, from ordering to checkout. Restaurant digital menu boards are becoming more interactive and intuitive than ever before with quick-service restaurants (QSRs) offering drive-thru services. However, only about 19% of drive-thru restaurants have embraced digital menu boards.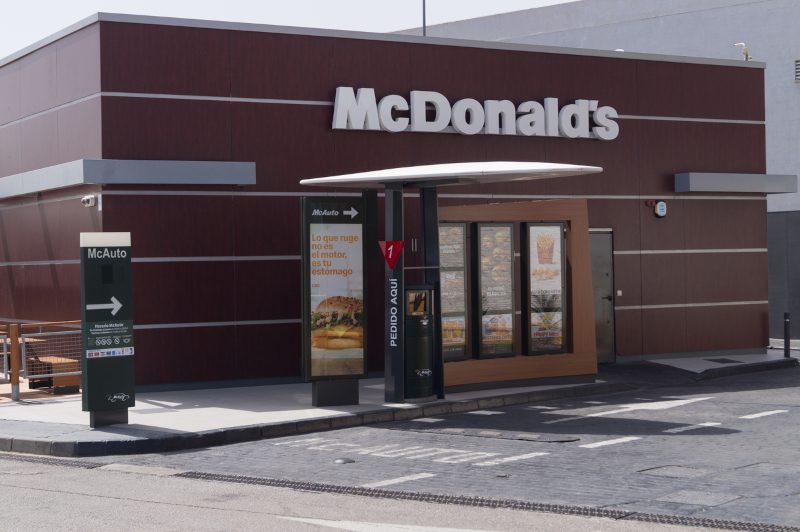 There are numerous benefits to using drive-thru digital menu boards. Not only do they allow customers to place their orders via smartphones or tablets, but overall, they offer convenience and efficiency to both restaurant owners and consumers. They allow the customers to order their food without waiting in line and provide a great way to increase sales and attract new customers. Additionally, business owners can use their digital menu boards to display other information like promotions and special offers. 
Ultimately, drive-thru digital menu boards save time and improve customer service. Additionally, customers prefer drive-thru experiences over walking into a restaurant. One study shows that 20% of all American meals are eaten inside cars. With this, drive-thrus should be deployed to meet growing market demands from customers to improve convenience and speed.
Because the right digital menu board solution for your drive-thru restaurant can give you a better competitive advantage, here are some trends and tips for using them effectively:
1. Consider Using AI-Based Voice Ordering 
Voice is a critical component that can enhance the drive-thru experience. Thus, more quick-serve restaurants are investing in advanced two-way audio communication systems. These come with features that:
Reduce outbound noise (from the kitchen) and inbound noise (traffic and engine sounds). The feature helps improve order accuracy, eliminating delays arising from poor communication between the restaurant staff and customers.
Rely on automated audio alerts to empower employees in managing customers at the drive-thru, third-party delivery pickups, and curbside pickup slots.
AI-enabled voice technology goes beyond just improving communication. For example, the technology can potentially reduce the need for employees to handle all drive-thru transactions.
Overall, a drive-through digital menu board with voice ordering and touchscreen options is quite efficient. Also, you can add a feature that allows customers to give feedback directly to you as the restaurant owner. Such information goes a long way in improving customer service and engagement.
2. Include Price Points for Your Food Items 
Most restaurants have installed digital drive-thru menu boards and outdoor menu boards that display the price points of every item at the POS system. That helps customers choose from multiple options without asking their server.
In so doing, restaurants create an opportunity to:
Improve convenience for customers: Customers can see what's on the menu, order and pay for it, and receive their orders, all without leaving the comfort of their cars.
Increase their capacity for drive-thrus: They can serve more people than fit in the dining room at any time.
Create new revenue streams: The more options a restaurant has to make money, the more likely it is to thrive.
Provide pandemic-friendly ordering options: Drive-thrus are perfect systems for keeping contact at a minimum during a pandemic.
3. Install Computer Vision and Video Analytics
Installing computer vision and video analytics can help:
Improve order accuracy
Increase sales by approximately 52%
Flag food safety issues
Reduce chargeback claims
Track line dropouts before purchase
Consumer vision can identify car license plates and the age profiles of the occupants inside the car. The data is crucial in recognizing repeat customers, enabling a restaurant to display personalized menu items. Besides, a restaurant can offer exclusive perks as customers pull into the drive-thru menu board.
More than identifying customers and leveraging their data to provide personalized services, computer vision can track the rate of drive-thru line dropout. The information can help uncover valuable insights for QSRs, especially if mapped to locations, dayparts, day of the week, and weather. With this data, restaurants improve their drive-thru menu boards or employees. Besides, they can probably get better ideas for re-designing the drive-thru lanes. 

Gamification for Drive-Thru Employees
Employees can become dull, and monotony can take the better part of their day as they serve customers at the drive-thru the entire day. The problem gets more compounded because critical employee performance metrics only become available when they fall short of productivity benchmarks. Gamification of drive-thru operations can help address this problem by significantly improving employee engagement and participation.
Some ways gamification can enhance employee engagement and productivity include:
Critical metrics become readily available to employees, allowing them to take ownership of their performance improvement plans.
Chain restaurants can hold friendly contests between employees in various locations with bragging rights. Providing rewards can be an incentive to boost productivity in top-performing areas.
Drive-thru readers' boards can signal where employees stand compared to their colleagues to awaken a positive competitive spirit at work. 
Besides, a Deloitte study shows that customers are willing to pay more if they see evidence of cleanliness and safety in food handling. So, computer vision and AI applications can identify instances when employees fail to follow food preparation and handling procedures. Thus, restaurants can provide more training to their employees to ensure safety compliance.
Leveraging Top Trends to Make the Most of Your Drive-Thru Menu Boards
Every innovation and integration in your drive-thru should put the customer experience at the forefront. After all, the reason your business exists is because of your customers. You can transform your drive-thru performance with quality drive-thru elements like digital menu boards, putting it ahead of the competition. Furthermore, don't forget to leverage the top drive-thru trends and tips to make the most of your investment.