In this article, you will learn how to manage your devices in our cloud-based digital signage software, Mvix CMS. When you have one or more players added to your account, you can manage them in the Device Library. The library has a list of all current players in your account and provides statistics about each player, such as the name, group, online status, and IP address. You can also organize players into "device groups", which gives you the ability to assign schedules to a group of devices instead of adding them individually. 
This article is especially for enterprise businesses that have deployed more than one digital signage either in the same office or in multiple locations and need to know how to manage those devices in our CMS. Enterprise digital signage consists of a large number of display screens that are dispersed geographically, catering to an expansive range of content needs and use cases across an organization. Our CMS allows for all digital signage displays to be managed from one centralized space.
For example, an enterprise corporation or government facility that has multiple offices in different cities and countries can manage all of their displays from each location on one CMS account that can be managed from their headquarters by upper-level employees to keep cohesion in branding and ensure correct information is being displayed.
Keep reading to learn how you can manage all of your devices from our CMS.
How to Manage Devices
Log into the

CMS

, hover your mouse over "Devices" at the top menu bar, and click the "Device Library" option from the drop-down menu.
From

here

, you can view all current devices in your account, as well as information about the last check-in time, app version, etc. To see a snapshot of the content currently playing on your device, click on the hamburger menu icon on the top right of each individual player, as well as additional data about the player.
Creating Device Groups
You can create and manage device groups by clicking on the "Groups" button on the top right.
From this screen, you can see both your device groups as well as any unassigned devices. 
To view the devices in a particular group, mouse over the "Items" listing in the left column that corresponds to the desired group.
To add a device to an existing group, simply drag and drop the desired device from the unassigned pool on the right, and release it over the group of your choice in the left column.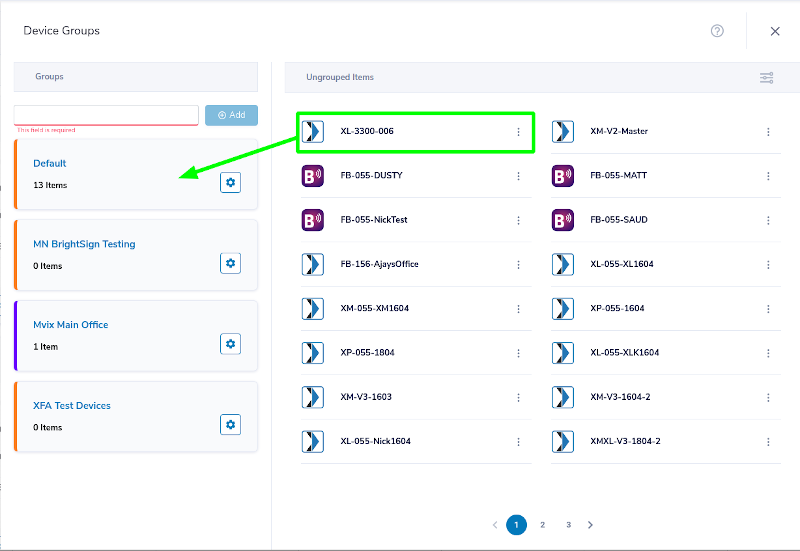 To verify that your device has been successfully added to your group,

mouse

over "Items" again.

If you wish to remove a device from a group,

mouse

over "Items", locate the device to remove, and simply

click

the trash icon at the right of the player name.
To create additional groups, apply the new name of the Group, then click the "Add Group" button.
Once the group is created, it will appear at the top of your group list in the left column.

To remove a group entirely, locate it in the left column of groups and click

the trash icon in the bottom right corner.
NOTE: Removing a group does not delete devices; it simply adds them back to the unassigned pool. You can also assign permissions and adjust the colors of your groups via this menu.
Let Us Do It For You!
Fresh and relevant content is the cornerstone of a successful digital signage campaign. Don't have time to manage your Digital Signage System or do you want your screens to look professionally designed? Let us do it for you. We will manage your digital signage screens for a fraction of the cost and minimize downtimes. Learn more about our Managed Service Plans.
Digital Signage Forever
Designed for enterprise-digital signage deployments, our Signature Care plan offers a lifetime warranty, free digital signage players every 3 years, accelerated issue resolution, and premium content. Intended to enable high system uptime, operational efficiency, and continuous business innovation, the plan ensures proactive upkeep of the signage network. Learn more about Mvix Signature Care.

Problems, Questions, Corrections: If you have any further questions, problems, or corrections you would like to see made, please open a support ticket.